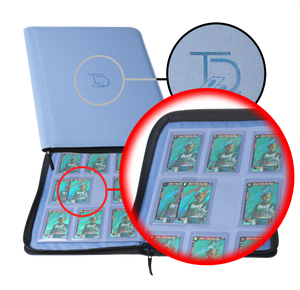 ✔️ PERFECT DESIGN - TopDeck delivers the ONLY TopLoader binder that maintains the 9 pockets per page standard look with built in pages (NO CLIPS/loose pages) Fit your collection and keep the sleek 9 page binder look with ultimate security. 
✔️ #1 SAFETY, PERIOD - We only produce the absolute best pro level gear. Made from archival-safe, acid-free non-PVC material, all pages are padded for reinforcement and preservation of cards
✔️ PREMIUM Clarity & Materials - All sleeves are non pvc premium quality built for clarity & longevity. Matte finish on outer sleeve for easy storage in binder pages.
✔️ PREMIUM SECURITY TECH - Toploader, premium leather, non pvc sleeves for ultimate security. Design was inspired from top end travel backpacks we use a PU leather tassle with YKK zipper design for easy open & close, longevity, and quality
✔️ LONGTERM STORAGE - No loose pages, clips, etc. Our 9 pocket pages are built to prevent air, dust, warping, & humidity. All side loading pockets designed to keep your cards securely in place and in mint condition.
✔️ ONE SIZE FITS ALL - Compatible with all Toploaders. Basketball, Pokemon, Baseball, Soccer, Football, YuGiOh!, Star Wars X-Wing, Force Of Will, Cardfight Vanguard, WoW, Panini XL & Match, Dragon Ball Z, & many more. Compatible with all standard card protector sleeves